English National Ballet's
Giselle by Akram Khan
The Bristol Hippodrome
Tuesday 18th – Saturday 22nd October 2016 October 2016
Following the world premiere at the Palace Theatre, Manchester in September, English National Ballet sweeps onto the stage of The Bristol Hippodrome this week as part of the national tour of Akram Khan's Giselle. 
STORY SYNOPSIS
Giselle is a story of love, betrayal and forgiveness within a context of social inequality. In this reimagined version, migrant workers are subject to the vagaries of the rise and fall of the industry which offers them their livelihood.
Act I
Giselle (Tamara Rojo) is one of a community of migrant workers who lose their jobs when a garment factory closes down. Wealthy Albrecht (James Streeter) disguises himself as an Outcast in order to visit his lover Giselle but his presence is noted by Hilarion (Cesar Corrales) – Giselle's would-be lover – a shape-changing 'fixer' who trades with and mimics the Landlords for his own and his community's profit.
Albrecht tries to woo Giselle but the factory landlords arrive and he's forced to return to a life with his social equals and Bathilde (Begoña Can), his intended. Giselle is driven mad with grief. At a command from the Landlord (Fabian Reimar), the Outcasts encircle Giselle and when the crowd disperses, her lifeless body is revealed.
Act II
A wrecked, abandoned 'ghost' factory is revealed – a place where Giselle and her female co-workers have laboured, and many have died. Albrecht arrives, grieving for Giselle but is driven away by Myrtha, Queen of the Wilis (ghosts of factory workers who seek revenge for the wrongs done to them in life). She summons Giselle from her lifeless body into the realm of death, to join them.
Hilarion enters to mourn at Giselle's grave. The Wilis surround him, demanding retribution for Giselle's death and Hilarion is brutally killed.
Albrecht returns and is reunited with Giselle on the threshold between life and death. Breaking the cycle of violence – and defying Myrtha's command – Giselle forgives Albrecht and releases him into life. The Wilis depart with Giselle, and Albrecht, now an outcast from his own community, is left alone by the Wall.
AKRAM KHAN'S GISELLE REVIEW
English National Ballet
Giselle is Award-winning choreographer and dancer, Akram Khan's first full length ballet. In fact the contrast between his Indian kathak and contemporary dance training and this romantic era ballet is the reason ENB artistic director Tamara Rojo chose him for the role and that explains a lot about the style of this evening's performance. It's like no ballet I've ever seen before.
DANCE
The ballet is unconventional and the stage is often brimming with dancers demonstrating unusual moves.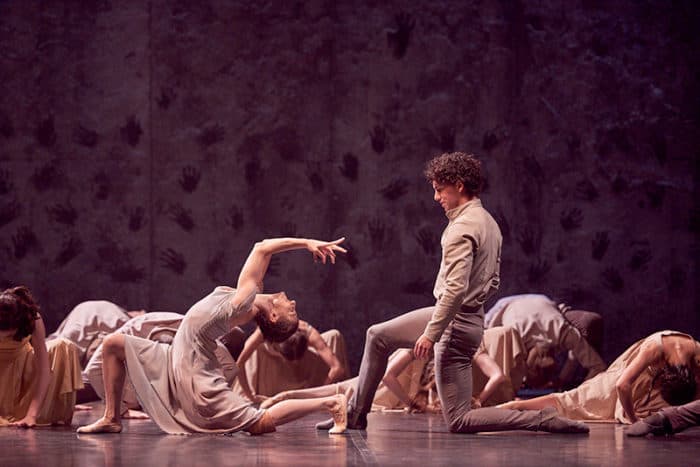 At one point Giselle (Tamara Rojo) stands on her partners stomach. In turn, he lifts her up and places her so precariously near to the edge of the stage that her arm drops and dangles down towards the floor.
In one particularly fast paced scene, there seem to be countless dancers rushing from one side of the stage to the other, emulating stampeding animals migrating to a new home.
In a later scene the corp de ballet combines to create what looks like a giant pulsating jellyfish which envelopes Giselle and can't decide whether to eat her up or spit her out.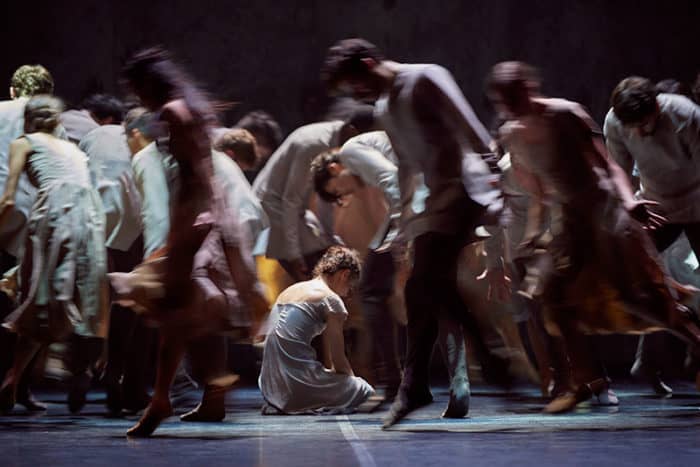 Perhaps the strangest is the scene in which Myrtha (Stina Quagebeur), the ice cold queen of the Wilis and her beautiful, tragic fellow ghosts dance on points with their faces almost obscured by long untamed hair, while balancing long bamboo canes across their mouths.
I find myself constantly questioning what each new move symbolises.
Most of the time I feel quite exhausted just watching, both because of the energy of the dancers and the intensity of emotion which the visual and musical performances evoke.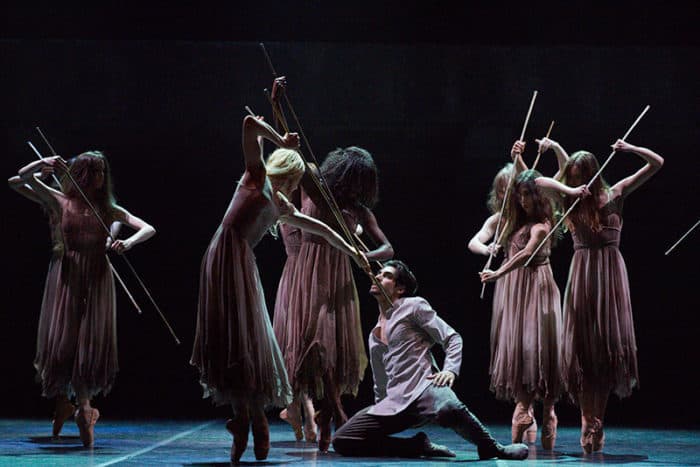 Soloist James Streeter explains:-
"Khan doesn't just impose his own language on the dancers, but finds movement within their bodies, he plants ideas and lets them grow"
I sense how effective this approach has been for example with the ghosts of the factory workers in act two, who communicate their vengeful emotions so powerfully that I believe that this feeling is coming from within each individual, rather than a direction which has been imposed upon them.
MUSIC
Composer Vincenzo Lamagna adapted the original score and then worked with ENB's musical director, Gavin Sutherland, on the orchestration for English National Ballet Philharmonic's live performances.
At times the music doesn't feel like music at all. At times it emulates industry, at others it sounds like a klaxon or the sea and often tension is heightened by an underlying repetitive sound, like a rumbling heartbeat.
Alongside those you'd expect to find in an orchestra, a range of unconventional instruments have been sourced to produce the unusual sounds this score demands. I hear talk of a bow drawn across a guitar string, a lyra and do you think those are cut off scaffold poles recreating the sound of an anvil?!
COSTUMES
Academy-Award winning designer Tim Yip created the set and costumes and you may not be surprised to hear that the men wear trousers not tights and there's not a frilly tutu in sight! Costumes are simple, he explains,
"so the language is the movement itself"
Having said that, it looks as though Tim had a lot of fun with the extravagant landlords costumes!
SET
For much of the first act the stage is bare, apart from a large wall at the rear with handprints on it (which reminds me of a climbing wall)! Lighting is gloomy. When the landlords arrive an impressive rotation of the wall heralds the new scene. The generally subdued lighting becomes harsh, turning to shine straight at the audience and dramatically backlights these extravagant creatures.
The wall later changes to become the backdrop for a disused factory.
At times we find it difficult to see the dancers as the subdued lighting is too dark.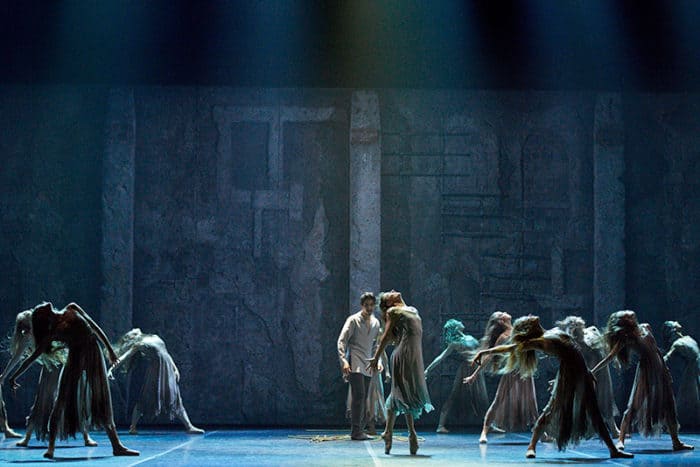 AGE SUITABILITY
My children have no special interest in ballet and I suspect this telling of Giselle is too abstract to hold their attention for long. The plot is not easy to follow and at times it's quite scary, containing violence and supernatural themes. A young child of perhaps eight years old is sitting in front of us during the first act but is no longer there in the second. I don't think it's suitable for them and wouldn't take my children.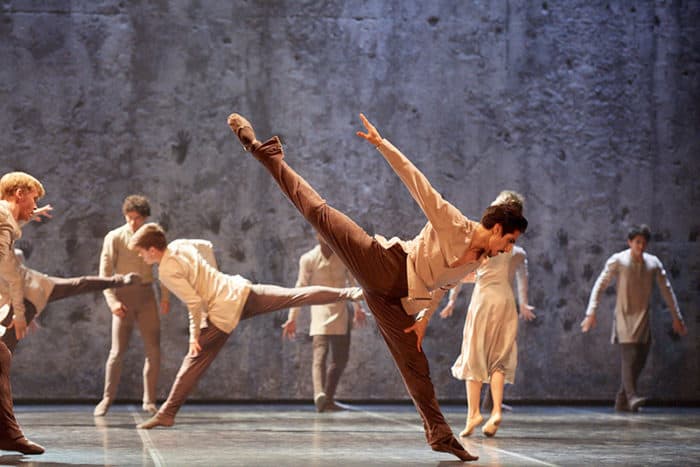 THE VERDICT?
This opening night performance is incredibly atmospheric and I find myself sitting on the edge of my seat because I don't want to miss anything. I get the impression that the way the different creative elements have collaborated prior to curtain up has been pivotal to the way this remarkable production has evolved.
Akram Khan's Giselle features the most beautiful, unusual and thought-provoking ballet. Watching it isn't a relaxing experience, but I feel privileged to be here and have a sense that I'm watching something very special and significant.
Highly recommended.
CREDITS
English National Ballet
English National Ballet Philharmonica
Conducter – Gavin Sutherland
Leader – Matthew Scrivener
Direction and Choreography – Akram Khan
Music by – Vincenzo Lamagna after the original score by Adolphe Adam
Orchestration by – Gavin Sutherland
Visual dDesign and Costumes – Tim Yip
Dramaturgy – Ruth Little
Lighting design – Mark Henderson
Assistant Choreograoher – Andrej Petrovic
Rehearsal Director – Mavin Khoo
Sound Engineer – Marcus Hyde
Co-produced by Manchester International Festival and Sadler's Wells.
Giselle is supported using public funding by the National Lottery through Arts Council England.
ENGLISH NATIONAL BALLET
Tuesday 18th – Saturday 22nd October
Evenings at 7.30pm
Thursday Matinee at 2pm
Saturday Matinee at 2.30pm
Tickets from £13.90
Concessions available
(affiliate link)