PRESS COVERAGE AND COMMISSIONED FEATURES
As well as blogging at my own websites Practically Perfect Mums & Taking 5 and making videos for my YouTube Channel, I'm pleased to say that  some of my work and travels have also appeared in the press and other media! (You will be pleased that I'm finally doing some proper writing, won't you Daddy??)
Here are a few of the newspapers, broadcasters and other websites which have featured my work and travels.
PRESS COVERAGE
I was invited by the Turkish Tourism Office to take part in an amazing trip to Bodrum. Our group of British travel journalists has since been featured in numerous local and national newspapers and I also took part in a radio interview.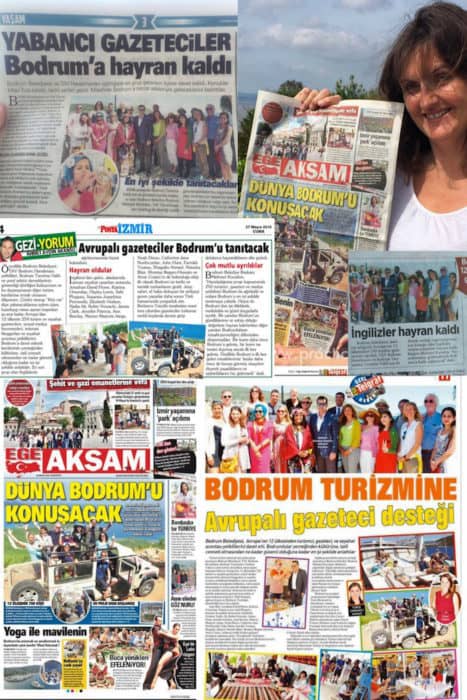 TRAVEL WRITING
In my capacity as joint Travel Massive chapter leader, I write about our Bristol meet ups for the global Travel Massive website. You can take a look at the first two articles below:-
First Bristol Travel Massive Meet-up on Trend!
and
Massive Meet-up at "Dirty Working End" of Bristol Harbour!
A review I wrote about Blue Reef Aquarium in Newquay has recently been featured by GoEuro in their comprehensive guide to Things to do in Cornwall. Take a look if you're heading that way!
Luxury brand James Villa holidays has compiled an article featuring tips and suggestions from myself and a few other travel bloggers on How to Give Kids the Best Summer Holiday. My photography and travel advice are both featured in the article.
Now I've started, I'll try to update this page slightly more frequently than once every five years (!), so please do check back if you'd like to keep up to date with who I'm writing for.
If you would like to talk to me about my writing or would like any more information about working with me, please email me on jane @ practicallyperfectmums.co.uk.