It's a big pond out there…
The big, wide world can seem a bit daunting when you're new parent. And while we can't help with sleep patterns or meal planning, here at Water Babies there's not much we don't know about baby and toddler water confidence, safety and swimming – and that in turn will help with your baby's emotional and physical development. We think that's pretty handy in a world that's 80 per cent water!
Why take my baby swimming?
Swimming is a vital life-saving skill. More than that, it helps with strength, coordination and fires off synapses in babies' amazing developing brains. In water, we have a full 360 degree range of movement, gently supported by the water, which is a unique experience for a little baby who is constantly held and cradled. There are emotional benefits too – special time bonding and communicating, and building healthy exercise habits that your whole family can enjoy. In fact, the average Water Babies class burns 300 calories!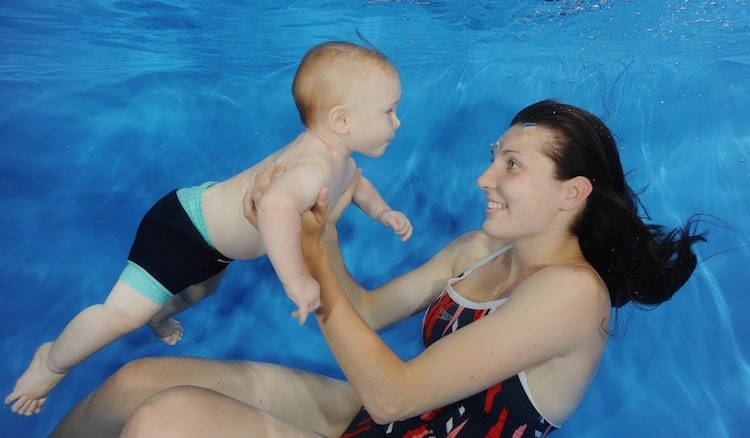 So I've bought my swim nappies and tummy control swimsuit, what next?
Well, you could take junior to your local leisure centre, or you could join a baby swim school where a specially trained teacher will help you swim your baby in a lovely, warm hydro-pool.
Ah-ha! I see where you're going with this! What are the advantages of baby swimming lessons?
We're glad you asked! Regular swim time, progressive lessons, specialist teachers, a group of fellow parents you can get to know… And did we mention the lovely, warm private pools we use?
Specialist teachers, eh? I remember my childhood swimming teacher – big perm and a whistle!
No perms, no whistles – we promise! In fact, most of us Water Babies teachers started off bringing our own babies to Water Babies classes. That means that the excitement, trepidation and joy you feel, we totally get because we've been there. Plus, we're trained to the nines to teach children and adults up to coaching level, with specialist baby and toddler training that's unique to Water Babies and full training in paediatric life saving.
So what is so unique about Water Babies?
We've been teaching babies and toddlers to swim in Bristol, Bath and Weston-Super-Mare for ten years now. We offer lessons seven days a week to fit in around your family. Our lessons are carefully structured to progress gently from birth until around four years old when your little swimmer will be ready to move on. During their Water Babies journey, your little one will learn water confidence, life-saving skills and swimming skills – and will have loads of fun doing so.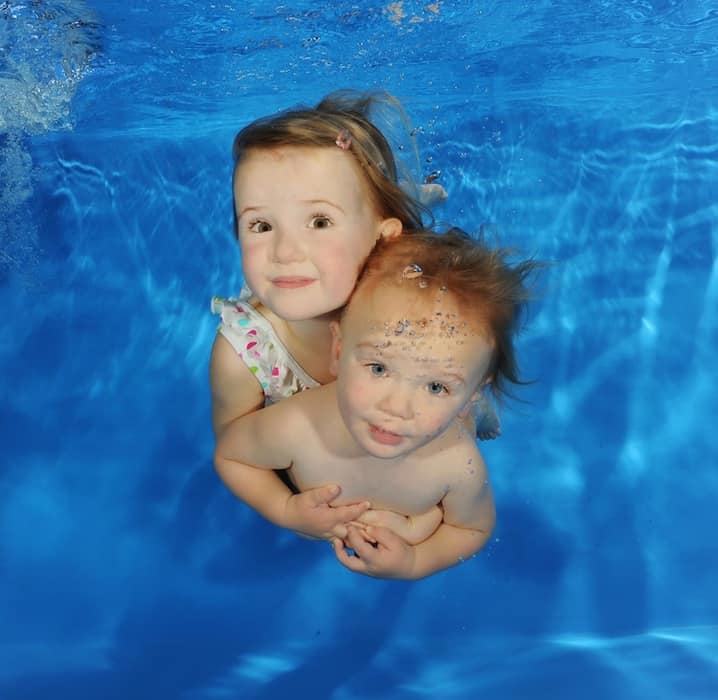 A ten year old swim school… Does that make you Old Skool?
Not at all! Water Babies locally and nationally is involved in cutting edge research into child development and aquatics (posh for learning swimming). We constantly update our teacher training and lesson plans. Recently, we've been involved in research with Manchester University, and locally we've been working with an Oesteopath about how baby swimming can help with babies' birth injuries. Old Skool indeed! (But don't listen to our music collection!)
Find out more about baby and toddler swimming at a pool near you.
Call Water Babies on 0117 946 6919 or email underwater@waterbabies.co.uk